Curious About Virtual Assistants? Here's What You Need to Know.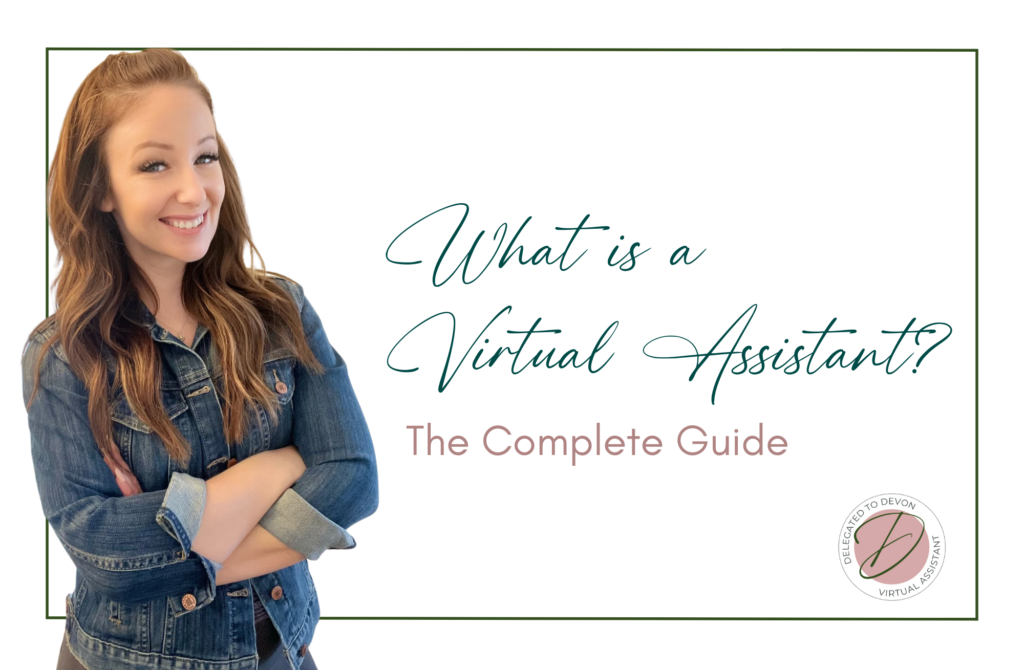 If you're a booked business owner, chances are you've heard about virtual assistants.
With more and more business owners moving to an all-remote work environment, virtual assistance is increasingly in demand.
But, what is a virtual assistant and what does one do? What kinds of tasks can you outsource to a virtual assistant? How can you hire one?
And, if you're looking into a career as a virtual assistant, where do you start?
Let's take a deep dive into the career of a virtual assistant.
What is a Virtual Assistant?
So, what, exactly, is a virtual assistant? Let's break it down.
What Do Virtual Assistants Do?
Virtual assistants manage the tedious tasks that are crucial to the success of your business so that you can devote your valuable time to the most important parts of your business: Yourself and your clients.
A virtual assistant is similar to an in-person assistant, but instead of reporting to a physical office every day, your virtual assistant will connect with you online. Most virtual assistants are freelancers, meaning you can hire a virtual assistant to complete tasks for you as needed without the cost of vetting, hiring, and onboarding a full time staff member.
How Do Virtual Assistants Work?
As a business owner, your to-do list is neverending. A virtual assistant helps you reduce your workload by managing, organizing and facilitating the odds and ends of your business on your behalf.
When you allow a Virtual assistant to direct what goes on behind the scenes of your business, you gain the freedom to spend your extra time how you WANT to spend it––not checking dreaded tasks from that aforementioned infinite to-do list. A Virtual assistant does that for you!
What Does A Virtual Assistant Offer?
Virtual assistants offer a myriad of services that can help support your business. These service offerings can vary depending on the skill set of the individual virtual assistant, but most VAs can offer calendar management, generate invoices, create content for your website, podcasts, or email lists, organize projects, and manage your client relationships.
Can a Virtual Assistant Help Me With My Social Media?
Most virtual assistants can help you with your social media.
Virtual assistants can create purposeful and effective content for your social media platforms, assist in hashtag research, engage with your audience, manage your direct messages, and keep your social media accounts active and cohesive across each platform.
Keep in mind, however, that not all virtual assistants specialize in social media management. Ask any potential VAs their experience level in managing business accounts.
What Are Some Virtual Assistant Niches?
Virtual Assistants can accommodate the needs of a wide variety of businesses. Some virtual assistants may have more specialized areas of expertise that make them the perfect fit for your specific business.
Some of the most in-demand niches for virtual assistants are:
Coaching and consulting
Digital marketing agencies
NFT and Web3.0
Ecommerce
Course creators
While these are the most popular niches for VAs, no matter what business you're in there are likely virtual assistants that specialize in your niche.
How to Become a Virtual Assistant
So, you've heard about being a virtual assistant and you're looking for a way to break into the business.
Let's talk about what the day-to-day life of a virtual assistant looks like and how you can launch your virtual assistant career.
What is it Like To Be a Virtual Assistant?
You can think of being a Virtual assistant as the equivalent to being a backstage director. Virtual Assistants work closely with the "cast" of a business (i.e. the business owner, their employees, clients, etc) by conducting and orchestrating the fine details to ensure a flawless and precise production.
Being a virtual assistant is by no means an "easy" or get-rich-quick job. On the contrary, building your virtual assistant business can take time. It can be months or even years before you establish your reputation as a reliable virtual assistant in your niche.
But, if you have the drive and are self-motivated, you can build a successful and lucrative virtual assistant career.
Is Being a Virtual Assistant Right For Me?
The best way to answer this question is to do some self reflection and not only recognize your
strengths and weaknesses, but identify your personal goals and what makes you feel fulfilled and accomplished.
Are you able to follow instructions as well as recognize when it's time to take initiative?
Are you self-starting or do you perform best when you are only expected to complete a given set of tasks?
Do you prefer to be on the front lines or are you more comfortable in the background?
A Virtual assistant needs to know how to be both the driver AND the passenger and how to fulfill those roles accordingly.
If that's you, a career as a virtual assistant may be a great fit for you.
Why Do You Want To Become A Virtual Assistant?
Before you start looking into how to be a virtual assistant, it's important for you to identify WHY you want to be a virtual assistant.
Are you passionate about empowering small businesses?
Do you thrive in environments where you can use your organizational skills?
Does the idea of time and location independence appeal to you?
Identity your reasons for becoming a virtual assistant before you take the leap. If you're simply looking to become a virtual assistant because you've heard it was an easy job to do or because you're just looking for any work-from-home job, you won't give your clients your best effort and you'll burn out quickly.

Virtual Assisting: Where To Start
Ok, so you've decided that a career as a virtual assistant is right for you. But where do you start? How do you learn how to become a virtual assistant? And how can you get hired?
Let's talk about it.
Steps to Becoming a Virtual Assistant: 9 Simple Steps
Determine Your Niche
While it's not entirely necessary to choose a niche, doing so will result in you to get intimately familiar with the needs of certain types of clients, allow you to build your skills more quickly, and make you an expert in that area.
Then, you can pitch your services as more of a specialist rather than a generalist.
Learn the Necessary Skills
Once you have determined your niche, you need to learn the skills that are required of a virtual assistant in that niche.
For example, if you've chosen eCommerce, you'll need to learn email software and email marketing, social media scheduling, and maybe even chatbot software to provide customer assistance.
There are, of course, general virtual assistant skills you'll need to learn, like calendar management and Cloud organizing.
Learn as many skills as you can to make yourself as marketable as possible.
Create Your Offers
Once you've learned the necessary skills, it's time to put those skills into packages.
Maybe you want to offer hourly packages for social media management.
Maybe you want to offer a retainer package for all backend tasks.
Maybe you want to specialize in email list management and podcast management.
Whatever it is, compile your skills into offers that you can pitch to potential clients.
Get Organized
You can't sell yourself as someone who's going to keep someone's business organized if you're not organized yourself!
Get your systems and processes in place. Create your SOPs, get your own calendar in place, and organize your schedule.
Make sure you have everything bulletproof before you start taking on clients.
Create Your Online Presence
It's time to get yourself out there! Create your Instagram, your LinkedIn, and any other social media profiles on platforms where your ideal client hangs out.
Include a clear bio, link to your calendar so that potential clients can get in contact with you, and create content designed to speak to your ideal client.
Even if you don't plan on finding clients through social media specifically, chances are that your potential clients will be looking yours up, so make sure your presence is cohesive and appealing.
Scope Out Potential Clients
There are a lot of places you can find potential clients. Social media sites, online networking groups, business forums––anywhere business owners congregate online!
Make a list of the clients that stand out to you the most and research their businesses.
Pitch Yourself
Now it's time for the pitch! There are two main ways to go about doing this: cold pitching and warm pitching.
Cold pitching involves sending an email or a DM to a potential client who is completely unfamiliar with you or your business.
Warm pitching is contacting a potential client that you've at least made an acquaintance with, such as someone you follow on Instagram and interact with their content.
I am of the opinion that warm pitching works far better, as the person is already at least somewhat familiar with you.
But, the most important thing is that you're out there sending out your pitches!
Nail Your Discovery Calls
So, you've piqued the interest of a potential client––congrats! But that doesn't mean your work is done. You need to make a great first impression on your discovery calls.
Get a list of questions together, guide your potential client through the call, and end with an action item, such as a date to follow up if you don't close the client right there on the call.
Deliver an Excellent Client Experience––Every Time
The best way to get your virtual assistant career off the ground is to deliver amazing client experiences that leave your clients not just retaining your services, but recommending you to other business owners!
Set clear goals and expectations at the beginning of the engagement and deliver 100% of the time.
What Are Good Virtual Assistant Jobs For Beginners?
If you're a new virtual assistant, some great jobs for you are gigs where you are sending and receiving emails for your clients, calendar management, and social media management.
Think of the things you do for yourself on a regular basis. Those are things you can easily do for other people.
How To Hire a Virtual Assistant
So, you're a booked-up business owner and you've come to the realization that you need to take some of the tedious tasks off your plate and you've decided to hire a virtual assistant. Great!
Let's talk about it.
Why Do You Need a Virtual Assistant?
If you're ready to lighten your load so you can focus on growing your business and dedicating your time to doing what you do best, you're ready for a virtual assistant.
A virtual assistant can manage the tasks that NEED to be done in your business, but that aren't in your zone of genius.
What Kind of Tasks Can I Outsource to a Virtual Assistant?
Virtual assistants can do everything from managing your calendar to sending Holiday cards to your clients and managing your social media. We can handle as much or as little of your "to do" list as you want us to.
Think of tasks that only YOU can do. Anything outside of those tasks can be outsourced so that you can focus on the "meat" of your business.
Where Can I Find a Virtual Assistant?
Looking to hire a virtual assistant? Here are a few places you can look to find your ideal match:
Business networking groups
Ask for referrals from other business owners
Social media (a quick hashtag search can work wonders!)
Freelancer sites like Upwork
Good old Google searches.
How Much Should You Pay A Virtual Assistant?
Each virtual assistant will charge depending on their level of experience and area of expertise. Some virtual assistants charge by the hour, and some charge a retainer fee per month.
And remember, you get what you pay for. If you want someone who specializes in your niche, be prepared to pay them for their knowledge.
Frequently Asked Questions About Virtual Assistants
Can a Virtual Assistant Be a Project Manager?
A virtual assistant can certainly assist in project management by coordinating important meetings and events. Some virtual assistants specialize in project management and some only work on taskwork as needed.
Be sure to vet any potential virtual assistants so that you work with someone who has the skills you need.
Is a Virtual Assistant an Administrative Assistant?
A virtual assistant does a lot of the same things an administrative assistant does, but virtually. Calendar management, travel booking, answering emails, and even paying bills are part of the job of a virtual assistant.
PA vs VA: What's the Difference?
The difference between a personal assistant and a virtual assistant is that a personal assistant typically focuses on the non-business related areas of your life (like helping you plan vacations or ordering groceries), and a virtual assistant helps you in your business.
Many virtual assistants do both!
Are Virtual Assistants Safe?
Hiring a virtual assistant is as safe as hiring any other online service provider. It's important that you thoroughly vet any potential virtual assistants so that you know they're qualified, trustworthy, and reliable.
Virtual Assistants for Coaches: Is it Worth It?
Virtual assistants are especially worthwhile for coaches. As a coach, most of your day-to-day involves serving your clients, requiring you to be present and engaged for most of the day.
But, with a coaching business, you've got tons of backend tasks that need to be done so that your client work can be completed seamlessly.  A virtual assistant for coaches helps manage these tasks so that you can focus on what you're called to do: coach.
Virtual Assistants: Saving You Time So You Can Run Your Business Like the Rockstar CEO You Are
Virtual assistants are the backstage managers of your business, keeping your systems running, your projects organized, and your life running smoothly.
An investment in a virtual assistant is an investment in your time, peace of mind, and the future of your business.
And your return on that investment is never-ending.